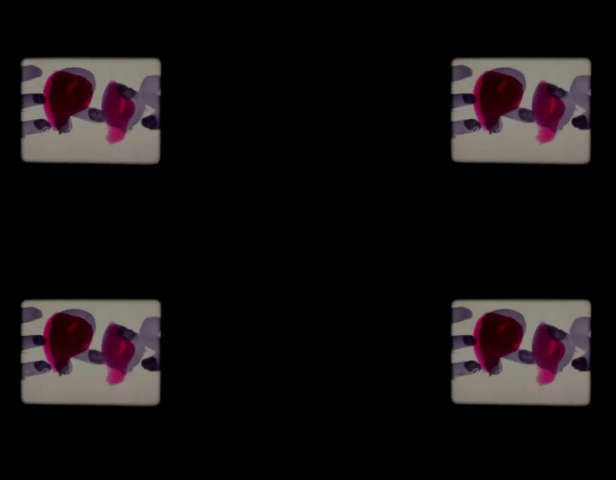 Still from Eros (2017) - 16mm hand-painted clear leader, sharpie and nail polish.
"The filmmaker is Davyana San Miguel and the film, Eros, is a comment on how we as a society must create a space for a woman's take on her own sexuality and, more importantly, how she expresses it."                                                                                                                                      
Rich Moreland (3hattergrindhouse), author of Pornography Feminism: As Powerful as She Wants to Be.
"...She also underscores the importance of feminist art since the 1960s–or what I call feminist ars erotica— by depicting herself working with paint in the film. She seemed literally to turn her back on the male gaze as well."
Tanya Augsburg, Associate Professor of Humanities (SFSU), "interdisciplinary feminist performance scholar, critic, and curator."
Still from Eros (2017) - hand-carved stencil, acrylic on canvas.
Still from Eros (2017) - acrylic on canvas.
"Recently, I've learned that 4% of Hollywood's cinematographers are women, that means that 96% of the visuals we consume are inherently from a male gaze. Through my work, I hope to reframe the traditional lens and present things from my unique feminine perspective."
Davyana San Miguel, Experimental Filmmaker